Scroll through any category on Amazon and you'll see multiple products with badges. Amazon's Choice, Amazon Best Selling, New release, Top Brand badge, climate pledge friendly badge, are just a few out of a plethora of badges we see on Amazon. But how do these badges influence your reputation and profits on Amazon?
Let's say, you've got a great product, optimized Amazon listings, A+ Content, media assets, and your product is always in stock. That is all you need to be on top on Amazon, right? Not really. Consider the brands and sellers that have been selling way longer than you and have bagged and applied some Amazon Badges that give them a regular boost. Wondering how you could also get these badges? Here's your guide on "How to Get Amazon Badges" In this article, we've analyzed the performance of products with badges vs. products without badges. We've also compared the usage of badges in different marketplaces and categories and determined whether or not any differences in performance exist with the presence of Amazon badges. 
What are Amazon Seller Badges?
Amazon provides sellers with many strategies to gain attention. One strategy worth discussing is Amazon Badges. What is an Amazon Badge? 
Amazon Badges inform customers with immediately recognizable information. They improve product listings by drawing attention to your quality, special sales, or the release of your new product. Different badges follow different mechanics. Below, we outline which badges are awarded by Amazon, those you need to apply for, or those that can be enabled at any time:
An Amazon's Choice product is determined by the best possible match for a given keyword. It should have high ratings, good reviews, a fair price, immediate shipping availability, and come from a professional, reliable seller. From the customer side, Amazon's Choice means the same thing: it's a high-quality product at a good price, vetted by other buyers as well as Amazon itself. 
The most elusive (and most attractive) badge to get is the Amazon Best Seller Badge. This badge conveys quality to the shopper. To earn one, you need to be among the top 100 sellers in a product category on Amazon. This badge is available to all types of sellers – whether or not they use FBA (Fulfillment By Amazon) – and it is also based on an algorithm.
2. Amazon Badges for which seller can apply:
Professional Beauty: To sell as a Professional beauty account, after signing for approval, you'll be asked to submit your beauty license. Amazon accepts all appropriate stylist and beauty professional licenses as required under applicable laws and regulations, such as cosmetology, barber, manicurist, esthetician, etc. ("Cosmetology" license). 
Climate Pledge Friendly: To qualify for Climate Pledge Friendly, your product must be certified by one or more of the qualifying third-party sustainability certifications or our own Compact by Design certification. We work directly with third-party certifications to obtain the list of ASINs they have certified.
3. Amazon Badges that sellers can enable:
Coupon
Extra Savings
Promo Price Coupon
If you are looking for a more attainable badge, go for the savings badge. The addition of coupons, extra savings, and discount badges is a good strategy to increase sales. So, how do you get this type of Amazon badge?  To get this badge, you need to access your Seller Central account. Go to the section under "advertising" and create a campaign related to your desired discount. 
At DataHawk, we analyzed 100k products on Amazon — both with and without Amazon badges. We have analyzed the use & impact of different types of seller badges on Amazon. Keep reading to get to the detailed breakdown.
Thanks to DataHawk's analysis, we have some recommendations for our readers. We'll tell you which badges to consider enabling, considering the category they sell in. The research focuses primarily on the US and UK marketplaces. We are mainly covering the impact of Amazon badges on product performance, specifically on traffic and conversion rates.
*This analysis does not cover how Amazon-rewarded badges such as the Best Seller and Amazon's Choice badges can be obtained.
Amazon Badge Marketplace Segmentation & differences
The proportion of products with badges - USA & UK
In this analysis, we looked at products having at least 1 badge vs. products with no badge. When looking at 100k products daily, we saw that around 25% of products on Amazon have a badge and this proportion is approximately stable through time. Amazon Badges inform customers with immediately recognizable information. They improve product listings by drawing attention to your quality, special sales, or the release of your new product. It's an important feature on Amazon that sellers should definitely consider leveraging.
Here's an example from our study on the "Coupon Badge" to show the impact of badge presence on the top-level KPIs while selling on Amazon.
In the case study, the above graph shows an analysis of product performance among products in the US Marketplace without badges vs. products with only a Coupon Badge. The analysis highlights that the products with the badges tend to be far better in the most relevant performance metrics.
The analysis includes 88,521 badge-less products vs. 5,014 badged products. Some notable figures to highlight are as follows:
The average Global BSR for products with a minimum 1 badge is 69% higher (from 277k to 84.8k)
The average Number of Reviews for products with at least 1 badge is 67% greater (from 1.5k to 2.5k)
The average Estimated Monthly Sales for products with 1 badge or more is 76% greater (from 814 to 1,434)
Similar patterns (i.e. most metrics improving for products with badges) are present across all seller-actionable badges (Coupon, Promo Price Coupon, Extra Savings) in the US and UK marketplaces. Let's get into the details.
Actionable Tips for Amazon Badges
Add Amazon badges to your KPI list:
You should be tracking the presence of Amazon's Choice and Best Seller badges across your portfolio as a key leading indicator of success. They matter… big time! Moreover, you should seek to win Amazon badges. Amazon's Choice badges are especially important since we know it is one of the main factors driving Alexa product recommendations via voice shopping.
Maximize your Amazon Advertising spend
Using Traffic & Conversion analytics can help you maximize your Amazon Advertising and promotions ROI, allowing you to focus your spending on the highest-converting products with low traffic. For example, according to our Amazon badges research, products with Amazon's Choice badges should get a higher proportion of Amazon Advertising dollars to try and boost glance views, given the higher conversion rates relative to traffic. Conversely, spending ad dollars on products with Best Seller badges may be throwing money to the wind since they already benefit from high traffic rates.
Understand the drivers behind Amazon badges
In future research, we'll examine what exactly you can do to get the Amazon's Choice badge. So, stay tuned. But for now, it's reasonable to assume that it's some combination of having products fully-stocked stock, pricing competitively, and offering great content and reviews (which would drive up conversion rates). It's important to prioritize you are enhancing your product listings on Amazon to make them as strong as possible.
Routinely monitoring glance views and conversion rates for all your Amazon products — in combination with sales & share and digital shelf metrics — can help you gain deep diagnostic insights to optimize your Amazon Flywheel and more precisely isolate factors powering your sales performance.
A Study on the Most Used Amazon Badges by Marketplace
We analyzed the average proportion of each badge per marketplace over 6 months.  (*Because a product can have several badges at once, it is expected to have a sum above 1)
Data analysis indicates that the Amazon's Choice badge is the most commonly used badge. It owns a share of about 67% of badges on average on Amazon-US. However, Amazon Coupon (23%) is the most popular seller-actionable badge followed by Extra Savings (9%) on the Amazon US marketplace.
On Amazon UK, the Promo Price Badge is bagged 41% of the total badges, Extra Savings Badge 14% & Coupon Badge 13%. The self-actionable badges in the UK are a very popular & important feature for any seller to be competitive in their niche on Amazon UK.
A Study on the Most Used Badges by Category
We're looking at the average proportion of each badge per category over the last 6 months on the Amazon US and Amazon UK marketplaces.
As expected the Amazon badges usage differs from one category to the other. This also means that some Amazon badges work better in some categories as compared to others. For instance, the Climate Pledge Friendly badge works better in Beauty & Personal care, and grocery than any other category. We observed that the Extra Savings Badge is most adopted by the Cell Phone and accessories category. Listed below are the top observations from the badge usage by category analysis:
55% of products, on average, in the Electronics category, have a Coupon badge (vs 23% in the entire Amazon US marketplace). It looks like it's crucial for vendors and sellers in this category to use the promotion type Amazon seller badges to be competitive.
15% of products, on average, in the Grocery category, have a Climate Pledge Friendly badge (vs 2.7% in the whole marketplace).
Here's what we found for the Amazon UK marketplace (Amazon-GB):
Promo Price Coupon and Extra-savings badge are the most seen seller applied badges on Amazon UK. The top categories where sellers are leveraging the Extra-savings badge are Large Appliance, Musical Instruments, Gardens & Outdoors, Electronics, and Clothing. Pet supplies is the one category on Amazon UK with the most number of products with badges. Listed below are the top observations from the Amazon UK marketplace:
On average, 75% of products in the Grocery category have a Promo Price Coupon badge (vs 41% in the whole marketplace).
On average, 23% of products in the Computer & Accessories category have a Climate Pledge Friendly badge (vs 5% in the whole marketplace)
We also looked at the most popular combination of badges used. The top badges sellers strive for is Amazon's Choice, which is seen to be on top in combination with Amazon Coupon Badge & Amazon Extra savings badge. For those that do not get Amazon's Choice or any Amazon-approved badges, go for seller-applied badges. However, it was interesting to see that there are more products with a combination of Extra-savings and coupon badges as compared to bestseller badges in combination with any other badge.
Amazon Badge Impact analysis - Marketplace level
Looking at the impact of badges, it is important to keep in mind that the numbers shown above do not necessarily justify a badge's impact. For example, it's possible that Coupon badges are mostly enabled by sellers who are already performing well and can afford to put their products on discount. In such a case, performance leads to badge usage - not the other way around.
In order to properly measure the impact of Amazon badges, we conducted a before/after analysis. Here, the 7-day averages of products' performance metrics (BSR, Reviews & Ratings, etc.) were compared right before enabling the badge vs. right after enabling the badge. This uncovers cases of products that exhibit the following behavior:
The chart above shows the global BSR of a product in the US marketplace when it did not have any Amazon badge (left half) vs. when it enabled an Amazon coupon badge (right half). We see a noticeable improvement in its BSR ranking. This analysis was conducted across 36,470 products across the US Marketplace that enabled the Coupon badge. Listed below are the notable results:
We saw a 2.8% improvement in average Global BSR (98.7k to 95.9k)
A 2.9% improvement in average Category BSR (49.9k to 48.4k)
A 3.75% improvement in average Sales Conversion Rate (12.3% to 12.8% among 3,885 analyzed products)
A 5.5% improvement in average Sales (10.08 daily units sold to 10.64 daily units sold among 3,017 products analyzed)
At DataHawk, we also analyzed the Impact by Notable Marketplaces/Categories/Badges
US Marketplace - Electronics - Coupon Badge
8.5% improvement in average Global BSR (23.1k to 21.1k)
8.7% improvement in average Category BSR (23.2k to 21.1k)
5.35% improvement in average SCR (4.7% to 5% among a small sample of products analyzed)
25% improvement in average daily sales (3.882 to 4.86 units sold among a small sample of products analyzed)
GB Marketplace - Health & Personal Care - Promo Price Coupon Badge
This analysis was conducted across a sample of products. It was found that:
3.9% improvement in average Global BSR (24.8k to 23.8k)
4.1% improvement in average Category BSR (25k to 23.9k)
There are numerous other combinations of Marketplaces, Categories, and Badges that exhibit promising statistics. However, some combinations are difficult to analyze due to a lack of consistent data (i.e. users would enable and disable their badges haphazardly).
The Products with Amazon badges tend to perform much better impacting the most relevant metrics, Global BSR, Category BSR, Sales, Conversions, Reviews & Ratings. However, this does not necessarily mean that Amazon Seller Badges result in a good performance in all cases - it could be the other way around. There are a few exceptions to this, e.g. products with Extra Savings, Beauty, Climate badges fare worse with Ratings.
Best Seller and Amazon's Choice badges tend to be awarded to the best-performing products, not the other way around.
The Seller-initiated or seller-applied badges, i.e. Coupon, Product Price Coupon, and Extra Savings badges on Amazon tend to improve products' BSR's - and occasionally other metrics - by single-digit percentage points.
When talking about Amazon seller-initiated badges (Coupon, Extra Savings, Promo Price Coupon): These are seen to improve product performance. The extent of improvement or profitability depends also on the fact that some sellers have historically high-performing products and are capitalizing on them.
Different badges may be more relevant for different categories based on the marketplace. In general, if a seller chooses a kind of badge that's optimal for a given category, they can expect a slight increase in sales ranks in exchange for discounted revenue.
Analyzed products that started out with no badge, and then availed of the coupon badge. Took the 7-day average BSR before the switch vs. after the switch, BSR improved by an average of 1,000 ranks.
For future analysis, we'll dig deeper into what it takes to get Amazon's Choice badge or an Amazon Best-seller badge. So be sure to subscribe to our blog & newsletter.
For this analysis, we can conclude that it's a combination of Amazon badges along with being in stock, listing the most optimized pricing, and listings with good product reviews which would drive up conversion rates. It is therefore important to focus on your key products on Amazon and get started with making them as strong as possible across all dimensions.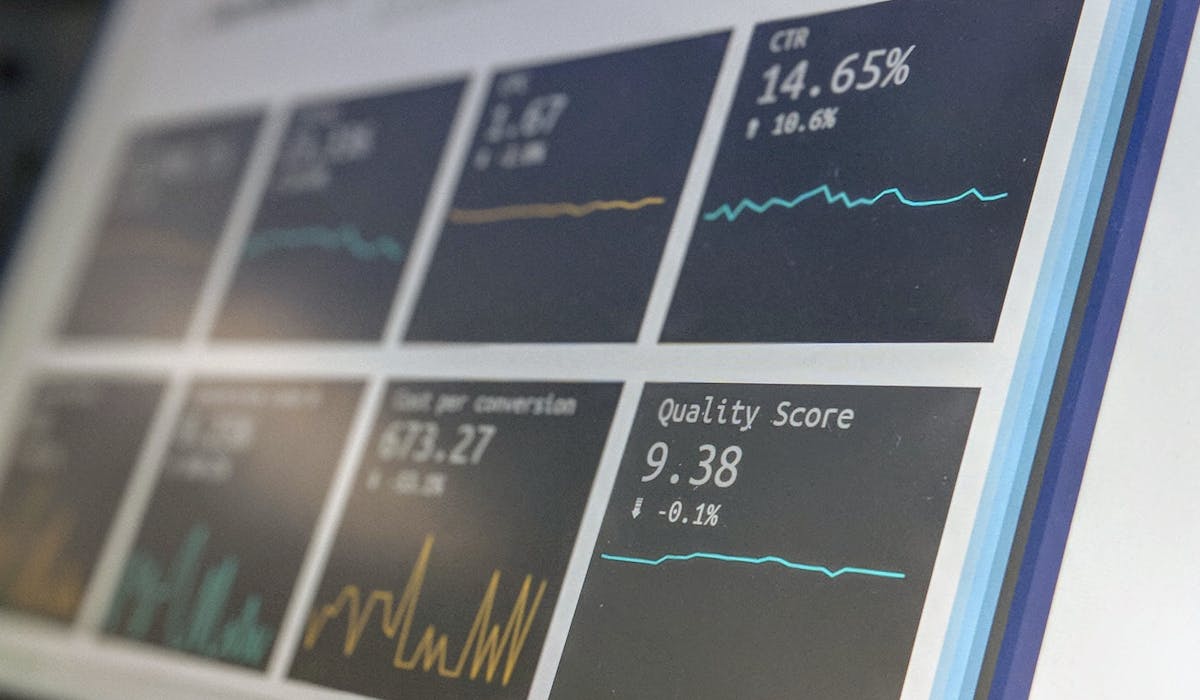 Understanding the relationship between your Listing Quality Score and ...